Eva-Lynn Jagoe
---
Professor of Comparative Literature and Spanish and Portuguese
Affiliated with Literature and Critical Theory and Cinema Studies
PhD, Duke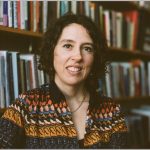 Contact Information
Email: e.jagoe@utoronto.ca
Web: www.evalynnjagoe.ca
Office: NF315
Leave Status: N/A
Bio & Research
CV: here
My areas of teaching and research are critical and cultural theory, environmental humanities, politics, film, literature, and visual art. I have written extensively on Latin American culture, and continue to work in that area, mostly in contemporary visual art, cinema, and literature, but I consider myself to be a true comparatist, constantly seeking to understand interactions and influences that are not limited by national boundaries.
Because I seek to reach a broader public, I disseminate my ideas and research through creative non-fiction and hybrid prose, as well as more traditional academic writing. My recently completed book, Take Her, She's Yours, explores theoretical notions of subjectivity and feminism through an experiential first-person narrative. My aim in the book is to dismantle the destructive fantasy that one can and should know oneself. I achieve this through the seemingly paradoxical strategy of writing a memoir that tells a highly personal story in which I learn to not take myself so personally. My next book project is on history, memory, and climate change.
I am the co-organizer of Banff Research in Culture, an interdisciplinary residency for researchers and artists. Themes have included "Beyond Anthropocene: Adaptation, Revolution, Transition," "Demos: Life in Common," and "Distributed Intimacies." I am also the co-organizer of the Toronto Workshop: Creative Non-Fiction Writing for Academics." In my teaching, I urge myself and my students to experiment with our critical practices of reading and cultural production so as to begin to understand productive anxieties around voice, critical form, and language.
Research Interests: environmental humanities, critical and cultural theory, film, literature, and visual art. Creative non-fiction and experimental critical writing.
Recent Publications
Edited Volumes
Sean O'Brien, Eva-Lynn Jagoe and Imre Szeman, eds. "Demos: Life in Common." Special theme issue of Public: Art/Culture/Ideas 55 (2017). 200 pages.
Articles
"Pedagogy, Writing, and the Future of Comparative Literature." Canadian Review of Comparative Literature/Revue Canadienee de Littérature Comparée. Forthcoming.
"Jumping the Break: Wildfires and the Logic of Separation." Discourse. Forthcoming.
"I'll Eat You Up: Fears and Fantasies of Devouring Intimacies." Writing From Below. Forthcoming.
"Take Her, She's Yours." Journal for Latina Critical Feminism.
"Attention's Deficits." Public 55.
"Depersonalized Intimacy in Sherry Turkle and Spike Jonze," English Studies in Canada. March/June 2016. Winner of the 2018 F.E.L. Priestley Prize for best essay.
Essays, Op-Eds, Stories
"The Three Sisters." Fables for the 21st Century. Anthology. Banff Centre Press, 2018.
 "Sexual harassment allegations have changed how we interpret theatre," Toronto Star, Jan 5, 2018.
"On Backyards, Property, and New Mythologies of Belonging." Cowritten with Imre Szeman. Line 6B Citizens' Blog: A Public Environmental Humanities Forum.
"I'll Eat You Up." Bluestem Literary Magazine. March 2017.
"Who are We Trying to Reach: The Case for Academic Writing that Everyone Can Read." University of Toronto Magazine, June 2016. Republished in Medium, September 2016.
"On Becoming an Imperfect Mother." Guts Canadian Feminist Magazine. May 2015.