Veronika Ambros Emeritus
Professor of Comparative Literature and Slavic

My research includes the theories of the Prague linguistic circle, their precursors the Russian formalists and their successors, most prominently the Tartu School around Yuri Lotman. The conference Structuralism(s) Today. Paris, Prague, Tartu organized by the Center, as well as the eponymous volume published in 2009 confirm their relevance and versatility. My main subject of inquiry however is semiotics in general and semiotics of drama and theatre in particular. Another part of my research is connected with the cityscape of Prague as the place that used to be an important center of Czech as well as German literature, and Russian émigré culture. Prague serves as a base to explore the relationship between urban space and fiction, between multiculturalism and nationalism, between center and margins. Furthermore, imaginary creatures, which appear on stage and screen, inform my enquiry about the functions of intermediality, especially of the relationship of fine arts, and architecture with cinema, and theatre. [more info.] email
Ruoyun Bai, Professor of Media Studies, Comparative Media Studies, and Comparative Literature
My teaching and research revolve around media as institutional, textual, and cultural practices and as technologies of mediation. I am attentive not only to textual and visual representations, but also to the materiality of such representations, i.e. how texts and images are produced and circulated in historically specific political, economic, social, ideological, and technological contexts. My scholarship so far has focused on postsocialist China and its mediatized politics. I have co-edited two books: Television Drama in China (Hong Kong University Press, 2009) and Chinese Television in the Twenty-First Century (Routledge, 2014). My monograph, Staging Corruption: Chinese Television and Politics, came out from the University of British Columbia Press in 2015. I have published articles in areas such as the political economy of Chinese television, the relationship of Chinese writers and intellectuals to the market and the state, and the Internet-based youth culture in China. Currently, I am moving on to explore the implications of a media framework for established disciplines such as comparative literature, cinema studies, and history. Informed by the burgeoning scholarship of media archaeology, comparative media studies, and digital humanities, I ask how the medium in which a text is embedded – be it the scroll, the codex, the book, the electronic, or the digital – matters to its production and consumption, with what kinds of political and cultural significance. . [more info.] email
Eric Cazdyn
Distinguished Professor of Aesthetics and Politics. Centre for Comparative Literature and Department of East Asian Studies, also affiliated with Cinema Studies and the Literature and Critical Theory Program.

I teach courses on critical and cultural theory, psychoanalysis (Freud, Lacan, the clinic), Marx and Marxism (Frankfurt School, Jameson, Karatani), Deleuze, film and video, architecture, modern literature, and modern Japan. I've written the following books: The Already Dead (Duke, 2012), After Globalization (with Imre Szeman, Wiley-Blackwell, 2011), The Flash of Capital (Duke, 2002); and editor of Trespasses: Selected Writings of Masao Miyoshi (Duke, 2010) and Disastrous Consequences (SAQ, 2007). My newest book, Nothing: Three Inquiries into Buddhism and Critical Theory (with Marcus Boon and Timothy Morton), is an attempt to reclaim for our present moment three categories that are regularly laughed out of polite conversation: "Enlightenment", "Cure" and "Revolution". This book will be published in 2015 by The University of Chicago Press.  If I had to locate a red thread that connects my work, I would say that it is an obsession with how impossibilities of all kind (political, aesthetic, personal) are engaged. Two years ago I received the Mellon Foundation's New Directions Fellowship (2012-2015) for a project called "The Worldly Clinic," of which a film practice is part. My films have been screened and performed in Japan, Canada, the US, Europe and most recently in the UK as part of a two-week residency at The Cube Microcinema (Bristol) with Eric Chenaux. For more information see http://www.ericcazdyn.net/.  email
Rebecca Comay
Professor of Philosophy, Comparative Literature, and Literary Studies; associate member of Jewish Studies and German Department

I work at the intersection of philosophy, art, and psychoanalysis, with a special focus on post-Hegelian political philosophy (including Marx, Benjamin and the Frankfurt School) and contemporary continental philosophy. I'm interested in questions of memory, trauma and the archive, and in particular in exploring the resources of psychoanalysis for social and cultural analysis. Current projects include a project on ruins, revolutionary erasure, and the theological-political idea of the tabula rasa; a project on hypochondria and the end of life (Kant and Proust); and a project on inheritance. Recent publications include Mourning Sickness: Hegel and the French Revolution (Stanford UP: 2010). email
Uzoma Esonwanne Emeritus
Professor of Comparative Literature and English

To date, my scholarship has been dominated by three issues: literary reference, the theory and poetics of repetition, and psychopathologies of colonial and racial subjection (what I've called "the crisis of the soul"). These activities have yielded many essays, including the following: "Orality and the Genres of African Postcolonial Poetry: Reading Okigbo's Juvenilia and Occasional Poems," The Burden of Several Centuries, ed. Chukwuma Azuonye (Africa World Press, forthcoming); "Text-Context: Ngũgĩ wa Thiong'o's A Grain of Wheat as Testimony," Approaches to Teaching the Works of Ngũgĩ wa Thiong'o, ed. Oliver Lovesey (MLA Publications, forthcoming); "Orality and the Genres of African Postcolonial Literatures," Cambridge History of Postcolonial Literatures, ed. Ato Quayson (Cambridge University Press, 2011); "The Short Century and After: African Literatures and Cultures from 1945–2005," Canadian Review of Comparative Literature/Revue Canadienne Littérature Comparée (2010); and "The Crisis of the Soul: Psychoanalysis and African Literature," Research in African Literatures (2007). Earlier publications appeared in New Formations, African American Review, and Cultural Critique. I have also found time to return to Christopher Okigbo, a poet I first explored in Critical Essays on Christopher Okigbo (1990). Recently, SSHRC awarded an Insight Development Grant to a team of scholars for which I serve as Principal Investigator for ""Ifa and Ijala: a feasibility study of Yoruba oral culture." Underlying the arguments I make in these publications has been a guiding premise: that, in the context of postcolonial African literatures language has felt, and borne, the burdens of myth, history, and prophecy, and that to do them justice criticism cannot ignore this fact. Although over the years I have occasionally undertaken projects indirectly or unrelated to these issues (my Critical Essays on Christopher Okigbo is an example), I would like to believe that such digressions deepen my understanding of these complex issues and afford me a unique scholarly vantage point.[more info.] email
Barbara Havercroft
Professor of Comparative Literature and French

My research has principally dealt with questions of subjectivity in contemporary French, Québécois, and German narrative literatures and has drawn on a number of different theories (poststructuralism, deconstruction, theories of literary genre, feminist and gender theories, discourse and enunciation theories, theories of life writing, feminist theories of autobiography, theories of intertextuality, trauma theory). My early work on subjectivity in the French nouveau roman and in the work of German writer Uwe Johnson led me to focus subsequently on the various forms of recent autobiographical writing (narratives, diaries, testimonial writing, confession, autofiction, etc.), where subject construction and self-representation are obviously crucial issues. How does the subject represent herself in the era of the crisis of representation? What are the connections between aesthetics, ethics, and politics in these autobiographical writings? Many of my publications on this latter topic dealt with the relationship between subjectivity and agency, as depicted in contemporary women's autobiographical texts, where the relationship between agency and performativity (as developed in Judith Butler's work) is woven into the threads of the narrative, specifically in the form of textual devices that enact Butler's conception of agency as a variation on a repetition. Recognizing the coincidence of the ages of memoir and trauma at the turn of the millennium, my current work explores the writing of different types of trauma (illness, rape, incest, mourning, family violence, etc.) in selected autobiographical and autofictional works by French women writers of the past twenty years, a period of unprecedented attempts to speak "unspeakable" wounds. I am also the co-founder and co-director of the research group GRELFA (Groupe de recherche et d'études sur la littérature française d'aujourd'hui) and I collaborate frequently on research endeavours with scholars in France and Québec. My most recent publication is Le roman français de l'extrême contemporain: écritures, engagements, énonciations (co-editor with Pascal Michelucci and Pascal Riendeau; Éditions Nota bene, 2009). [more info.] email

Eva-Lynn Jagoe
Professor of Comparative Literature and Spanish and Portuguese, affiliated with the Literature and Critical Theory Program and Cinema Studies.

I teach and research critical and cultural theory, critical writing, gender studies, ethics, new media, film, psychoanalysis and cognition, literature, and visual art. I have written extensively on Latin American culture, and continue to work in that area, mostly in contemporary visual art, cinema, and literature, but I consider myself to be a true comparatist, constantly seeking to understand interactions and influences that are not limited by national boundaries. My driving interest is in experiments in form and communication, and I have chosen to write my next book, There for the Taking: Girls and Sex in the 21st Century, as a series of lyric essays examining gender representations and violence, ethics and relationality in new media, selections of which are available on www.evalynnjagoe.ca. With my students and readers and in my work at the Banff Research in Culture residency, I investigate community, relationship, and politics, what it means to give and take, to hold and to reject. Thus in my graduate seminars I engage in a variety of critical engagements and exercises in order to formulate a praxis that is less hampered by the urge to interpret than it is driven by an attention to form and possibility. I urge myself and my students to experiment with our critical practices of reading and writing so as to begin to understand the productive anxieties around voice, critical form, and desire in language. I am also engaged in thinking about the future of the university and the humanities. Because of my particular focus on the brain and mental health I am particularly focused on opening up a dialogue between medical disciplines and the humanities, as I think there are possibilities for mutual exchange and learning that touch upon a growing field of enquiry.[more info.] email
Conrad James


Professor of Comparative Literature and Caribbean Studies
Affiliation: Fellow, Victoria College
PhD (Cambridge)
Email: conrad.james@utoronto.ca
Office: Bader Theatre, Room 318
Biography
Professor James's research focuses on Spanish Caribbean literature and visual culture and Afro-Hispanic cultural production. He has published widely on Afro-Cuban writing of the late 20th century and has also written on contemporary Dominican fiction. He is author of Filial Crisis and Erotic Politics in Black Cuban Writing: Daughters Sons and Lovers (Tamesis 2019). His other major publications include Writing the Afro-Hispanic: Essays on Africa and Africans in the Spanish Caribbean (2012) and The Cultures of the Hispanic Caribbean (2000). Professor James' current research involves a project on Cultural Transactions in Cuban Literature and Visual Culture and another on The Transnational Geographies of 21st Century Caribbean Narratives.
Before moving to the University of Toronto, Professor James taught at the University of Houston. Prior to Houston he taught at the University of Durham and the University of Birmingham in the United Kingdom. He has also held visiting positions at the University of Maryland and the University of California, Santa Cruz.
…
Pia Kleber Emeritus
Professor of Comparative Literature and Drama Study

Whether personal, social or broadly political, the definition and preservation of Human Security is central to contemporary art around the world. My own research goal is to show how central art has been and is to the conception of Human Security. All literature about Human Security to date has completely ignored the fact that artists do much more than respond to or reflect contemporary anxieties: they explore issues that other parts of society may not recognize and they offer solutions to perceived problems.
Some of the works we study in my class are: Ariane Mnouchkine (Au soleil même la nuit; Le dernier Caravanserail) ; Robert Lepage (Trilogy of Dragons ; Needles and Opium ; The Andersen Project) ; Atom Egoyan (Ararat), John Greyson and South African Aids activist , Zackie Achmat (Fig Trees); Iranian filmmaker Mohsen Makhmalbaf (Kandahar);and Terry George's' Hotel Rwanda.
I investigate techniques of cross-cultural collaboration in the arts and address ways in which these activities might be made to overlap more closely with the work of social and political activists both in Canada and elsewhere in the world. I am concerned with how policies, fuelled by fear and based on misrepresentation, are constructed in a space apart from the lives they either seek to protect or seek protection from The project's challenge therefore is to forge a clear link between two notoriously vague concepts – "Human Security" and "Culture" – in such a way that a coherent analysis and effective strategies can emerge.In order to undertake this unique and non-traditional inquiry I use an innovative and multidisciplinary pedagogical approach by combining students from Comparative Literature with students from the Department of Political Science under the supervision of Prof. Stephen Clarkson. The combination of students from both disciplines will help to infuse a social-scientific approach to security in international relations with a practical understanding of how creative agency can produce social change. We plan to present the progress and prospective new directions at a conference in Berlin at the end of the academic year. [more info.] email
Ann Komaromi
Professor of Comparative Literature

I work on dissidence, cultural opposition, alternative publishing and avant-garde art. In particular I have studied the self-publishing system in the post-Stalin Soviet Union known as samizdat. In that work, I have compared how different political, artistic, religious and national groups used samizdat to express themselves and occupy positions in an independent public sphere. In my book on samizdat writing and publishing, Uncensored, I analyzed the construction of the dissident subject and examined samizdat novels as examples of strategic position-taking. My database of alternative journals and my conceptualization of samizdat publishing have built on a central concern with material texts, their lives and fates. I have been fascinated by the ways in which textual objects may accrue, gain and lose cultural capital when exchanged within and across borders.
I am also engaged in comparing activism in different temporal and political contexts, with a special interest in Jewish activists. Current projects include a look at the development of post-War activism among Canadian Jews and descriptions of the Jewish national movement in the Soviet Union. I continue to develop both digital and print projects for exploring alternative publishing and dissidence.  I have begun comparing notions of the avant-garde and cultural opposition across French and Soviet journals. I am also exploring how visual and conceptual artists reimagined the human subject through representations of waste and wastelands, taking as my examples artists including Robert Rauschenberg, Tadeusz Kantor and Ilya Kabakov.  [more info.] email
Neil ten Kortenaar
Professor of Comparative Literature and English

I work on African, Caribbean, and South Asian literature. I have discovered to my own ever-renewed surprise that literature is always in excess of theory. While the critic's job is to account for the text and the world that produced the text, criticism always falls short. I have several times had the disconcerting experience of finding myself needing to return after a few years to account anew for a text I had thought I had mastered. My criticism always starts by focusing on particular moments of literary power and hermeneutical difficulty that pose a challenge to my understanding of the world. From there my work expands to address much larger questions that can be identified as postcolonial. Questions such as: why do Africans write tragedy? What if cultural imperialism were a form of spirit possession? Why does the constitutive moment of new nation-states call for sacrifice? Why do so many African and Caribbean novels take place in unnamed and pseudonymous settings? What does Salman Rushdie identify with in the figure of the Prophet? My most recent book considers the many different ways that African and Caribbean writers imagine the acts of reading and writing, that is, the experience of retreating to a private space in order to confront paper. When postcolonial subjects concentrate on a page held a foot before their eyes, what happens behind their eyes? Much critical work has been done on how orality is imagined in postcolonial literature, but literacy is equally important. My current book project looks at the complex psychological maneuvers needed for colonial territories to be reimagined as nation-states and for their subjects to reimagine themselves as citizens. [more info.] email
Eva Kushner Emeritus
Professor of French and Comparative Literature

My early studies were in Philosophy and French Literature. My thesis, Le mythe d'Orphee dans la litterature francaise contemporaine. was already comparative without my realizing it! and led to studies on classical mythology in modern literature and reflection on the aesthetics, anthropology, and the semiotics of myth. Then came books and studies on French Canadian poets, and anthologies of Quebec poetry for
translation into other languages and this became an opportunity for comparative studies of English and French Canadian poetry, and for attempting to theorize the literatures of Canada in all their multiple
and changing dimensions and interrelationships. Since 1969, I have been involved in the "Comparative History of Literatures in European Languages" series, directing its Renaissance sub-series. I have been organizer of the VIIth congress of the International Comparative Literature Association (Montreal and Ottawa, 1973), editor of its proceedings and those of the Paris (1985) congress. President of the I.C.L.A. (1979-82) and of the International Federation for Modern Languages and Literatures (1996-99). Studies on the Renaissance dialogue; critical editing of the works of XVIth century poet and philosopher Pontus de Tyard. Tracking the historical and theoretical complexities of the development of Comparative Literature in the XXth and now XXIst century in the hope that it continues to play a fruitful and perhaps a leading role among the human sciences. [more info.] email
Thomas Lahusen Emeritus
Professor of Comparative Literature and History

 My research combines archive-based history, cultural theory, and film. Its geographical area includes Russia, Central Asia, and China. In the last 5 years I have added documentary filmmaking to publishing. Producing and directing a film, seeing the world through a camera and editing, are for me new ways of conceptualizing and writing. For example, The Province of Lost Film (2006) is part of an ongoing project (including a book-length publication in progress) on the history of Soviet film exhibition and distribution, which came to an end when the Soviet Union disintegrated. Shot in rural Central Russia in 2004, using film clips and archival footage, the documentary is about the nostalgia of watching film collectively: in a movie house; a workers' club; or at night, on an improvised screen hung in the village square. Employees of the former distribution and exhibition network, projectionists, and viewers reflect upon the bygone experience of "cinefication," and more generally on the lost opportunities of the socialist dream. A documentary on rural film projection in Sichuan, China, is in production thanks to a SSHRC Insight Grant. For information on other films, completed and in progress, and the philosophy governing their making, see the website of our production company: www.chemodanfilms.com. Chemodan, pronounced "ch [like "church"]-eh-mo-dunn," is the Russian word for "suitcase." The word symbolizes motion, travel, and the international component of our group.  [more info.] email
Julie LeBlanc
Professor of Comparative Literature and French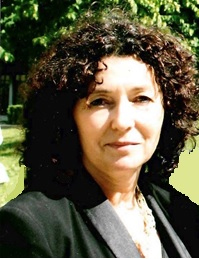 My research is driven by my passion for life-writing, word and image relationships, genetic criticism and literary theory (semiotics, hermeneutics, narratology, visual semiotics, feminist theories of autobiography, discursive analysis). Although my literary corpus is predominantly French from the 20th and 21st centuries, I have also worked extensively on English and Spanish autobiographical narratives. The integration of visual media (photographic, painted and cinematic images) into life narratives helps to foreground the complex relationship between the subjective nature of identity and its textual/visual representation. Using an interdisciplinary perspective and a multicultural corpus of visual autobiographical narratives written and produced by contemporary writers and artists, my research is focused on studying how these subjects become endowed with visual and performative skills to narrate their subjective experiences and to illustrate their personal and collective memories. The forces at the heart of my research are the inexhaustible variety of human experience and identity and the irrepressible impulse to explore, express and intellectualize identity through textual, visual and performative media. More importantly my work on illustrated autobiographical narratives and their manuscripts has led me to treat my multi-lingual corpus as visual cultural constructions deeply involved with societies, ethics, politics and the epistemology of "seeing and being seen" (Mitchell).
The seminars that I offer at the Centre for Comparative Literature and the theses that I direct reflect the multi-lingual and interdisciplinary nature of my research. My publications include three books: Genèses de soi. L'écriture du sujet féminin dans quelques journaux intimes (2008) ; Énonciation et inscription du sujet ; Les Masques and a forthcoming book: Narrativité et iconicité. I have also edited several volumes of Texte. Revue de critique et de théorie littéraire; Recherches sémiotiques/Semiotic Inquiry and Voix et images, focused on autobiography, word and image relationships, genetic criticism, rhetoric, semiotics and literary theory. . [more info.] email
Roland Le Huenen Emeritus
Professor of Comparative Literature and French
My research deals mainly with the French Literature of the XIXth century, and moves between two poles. In 1973 I co-founded the Groupe International de Recherches Balzaciennes (GIRB), now located at the University of Paris 7, whose aim was to examine the work of the French novelist Balzac through the lens of various contemporary theoretical approaches: semiotics, genetic criticism, sociocriticism (sociocritique), among others. My early work involved the study of Balzacian characters from the vantage point of semiotics and narratology. Current concerns have led me to explore how the novel in XIXth century France creates its own tools to offer a critical representation of the social issues of the time. My second research interest has drawn on a number of different issues found in travel narratives viewed from the perspective of an open genre. What are for instance in such narratives the connections between fiction and non-fiction, between entertainment and science, between various styles of description? What changes in the structure of the traditional travel account do occur, when takes place a sudden shift of the enunciative authority, when the professional writer takes over from the merchant, the sailor, the diplomat, the missionary, the soldier, as it is the case for literary travel narratives produced in France following the publication by Chateaubriand of his Itinerary from Paris to Jerusalem (1811)? Using this theoretical angle, there is still much to explore in the works of Hugo, Nerval, Gautier, Flaubert and Sand to name only a few of the XIXth century French writers who, besides fiction, drama or poetry, also wrote travel accounts. [more info.] email
Victor Li Emeritus
Professor of Comparative Literature and English

I guess I'm more of a fox than a hedgehog since my research interests are eclectic and include contemporary critical and literary theory, postcolonial literatures, globalization studies, theories of modernity, primitivism, and the intersection of anthropology and literature. I am drawn to interdisciplinary and comparative work as evidenced in my book The Neo-primitivist Turn: Critical Reflections on Alterity, Culture, and Modernity (2006). I argue in that book that in many contemporary theoretical discourses primitivism has merely been ushered out the front door so that it can be surreptitiously smuggled in again through the back. Neo-primitivism can therefore be seen as a kind of anti-primitivist primitivism. The ubiquity of neo-primitivism, its ability to mutate and survive even as it is rigorously questioned, is reflected in the book's analysis of different authors from different disciplines (continental philosophy, literary and cultural studies, anthropology, and critical theory). I've always been suspicious of settled orthodoxies in the humanities and firmly believe in what Kenneth Burke has described as "perspective through incongruity." Or to cite another Burkean aphorism: "When in Rome do as the Greeks." This sense of contrariness guides my current research project titled "Allegories of Globalization," a critique of the representationalist ontology present in both pro- and anti- globalization discourses. I also hope in the future to start a new research project on the role of what I call "necroidealism" (tentatively defined as the elevation or apotheosis of an idea or concept through death) in contemporary theory and literature. [more info.]email
Mary Nyquist
Professor of Comparative Literature, English, Literature and Critical Theory, and the Institute of Women and Gender Studies.
My research is interdisciplinary, involves close textual analysis, and centres primarily on intersections among early modern literature, Euro-colonialism, and political philosophy. For many years I have also been deeply engaged in other areas and historical periods, including the literature and philosophy of revolution (mid-seventeenth century England and the Age of Revolutions, with focus on Haitian Revolution), histories and theories of violence, critical race theory, slavery studies, and early modern, modern, and contemporary poetry. Awarded the Milton Society's prestigious title of "Honored Scholar" in 2011 (an achievement award not confined to Milton studies), I recently co-edited with Feisal Mohamed Milton and Questions of History: Essays by Canadians Past and Present (University of Toronto, 2012), which won the Irene Samuel prize. I have published essays on Hobbes and Locke that are part of Arbitrary Rule: Slavery, Tyranny, and the Power of Life and Death (Chicago University Press, 2013), which concerns interrelations between transatlantic slavery and the political "slavery" that is central to ancient Graeco-Roman, early modern, and enlightenment political discourses. I continue to work on Hobbes, and currently have three projects on the go: a monograph on embodied servility in 'Western' discourses of liberty; one on animality, barbarism and "rights" in early modern and enlightenment colonialist and emancipatory projects; and one on barbarism and tyranny in Shakespeare.  Outside the academy, I have done activist work in the areas of racialized and gendered violence, and have published poetry in several Canadian journals, including The Malahat Review.[more info.] email
  John Paul Ricco
Professor of Comparative Literature, Art History and Visual Culture

Professor Ricco is an art historian and queer theorist, whose interdisciplinary research and writing draws connections between late-twentieth-century and contemporary art and architecture, continental philosophy, and issues of gender and sexuality, bodies and pleasures, pornography and eroticism. He is the author of two monographs: The Logic of the Lure (University of Chicago, 2003) and The Decision Between Us: art and ethics in the time of scenes (University of Chicago, 2014). He is currently completing the third volume in this trilogy on "the intimacy of the outside," titled: The Outside not Beyond: pornographic faith and the economy of the eve. This is a project that seeks to advance an understanding of the ontological exteriority and essential anonymity of social attraction, encounter and departure, as the non-securable ground of freedom. It critically addresses representations of the stranger, foreigner, and anonymous passerby in politics and culture today. Ricco is the editor of an issue of the journal Parallax on the conceptual theme of "unbecoming," and co-editor of an issue of Journal of Visual Culture on Jean-Luc Nancy. He has served as Chair of the Editorial Board of Art Journal, and has contributed to such journals as: Culture Machine, Scapegoat, and World Picture. He has recently published essays and interviews in: Porn Archives, (edited by Tim Dean, Duke University Press, 2014), Nancy and the Political (edited by Sanja Dejanovic, Edinburgh University Press, 2015), and Art and the Anthropocene (edited by Etienne Turpin and Heather Davis, Open Humanities Press, 2015). He is a 2015-16 Faculty Research Fellow at the Jackman Humanities Institute, working on a project on "The Collective Afterlife of Things." His graduate teaching has included seminars on: Jean-Luc Nancy: Retreating the Aesthetic; Late Barthes: Neutral, Photography, Mourning; and Queer Ethics and Aesthetics.
Jill Ross
Professor of Comparative Literature and Medieval Studies, University of Toronto

My work focuses on the rich literary culture of medieval Spain. My research is broad in terms of both chronology and language, moving from late antiquity up to the fifteenth century and covering texts written in Castilian, Latin, Catalan and Hebrew. My previous work explored the female body as a means of articulating questions of literary authority and practice within the cultural spheres of medieval Iberia, and demonstrated the centrality in medieval literary culture of the gendering of rhetorical and hermeneutical acts involved in the creation of texts and meaning. My work, as exemplified by my recent book, Figuring the Feminine: The Rhetoric of Female Embodiment in Medieval Hispanic Literature (University of Toronto Press, 2008), seeks to combine both medieval and modern approaches to literature in its use of a framework rooted in classical and medieval rhetoric (i.e. premodern 'literary theory') as well as current theories of gender and feminist philosophy. I find the dialectic between medieval and modern theoretical articulations to be compelling and critically productive. My research also examines the cross-cultural dynamic at work medieval Iberian literatures, focusing, for example, on cultural fusion and ambiguity in a fourteenth-century poet writing in both Castilian and Hebrew, and on the cultural tensions between France and Occitania embedded in the linguistic form of a fourteenth-century bilingual Arthurian text written on the island of Mallorca. My current large project explores the hugely important, but understudied, theory of metaphor in the Middle Ages. Using medieval rhetorical and philosophical sources, I am attempting to understand metaphor an all its theoretical complexity and to hone in on some of the crucial work it accomplishes in medieval culture, ranging from its conceptual importance in the areas of Eucharistic transformation and religious conversion, to the development of an idea of ethical literary character. [more info.] email
Atsuko Sakaki
Professor of Comparative Literature and East Asian Studies

Atsuko Sakaki's research interests include: gender relations (several refereed book chapters on female intellectual writers in relation to their male critics and mentors, Kurahashi Yumiko, Ema Saikô and Arakida Rei); narrative as a speech act (Recontextualizing Texts: Narrative Performance in Modern Japanese Fiction [Harvard Asia Center, 1999]); critique of cross-cultural polemics (Obsessions with the Sino-Japanese Polarity in Japanese Literature[University of Hawai'i Press, 2006]); city, body and text forming and transforming one another (SSHRC funded, 2003-7; a few refereed articles and book chapters on Gotô Meisei and Abe Kôbô); translation as formative of image-text (edited and introduced Translation/Transmediation, a special issue of Poetica 78 [December 2012]) and the photographic narrative (SSHRC funded, 2008-14; Jackman Humanities Institute Faculty Research Fellowship funded 2010-11; a complete book manuscript, The Rhetoric of Photography in Modern Japanese Fiction [under review] and a few refereed journal articles on Tanizaki Jun'ichirô and Kanai Mieko). Her intellectual trajectory is always motivated by the desire to address the limitations built into the premises of her previous work. Still, she sees a degree of coherence in the subjects of inquiry: agency beyond identity; temporality beyond chronology; and spatiality beyond cartography. With sustained interest in the corporeal and material aspects of production and reception of literary texts, currently she is writing a book on literature that contests territoriality, engaging Abe Kôbô, Gotô Meisei, Hasegawa Shirô and Horie Toshiyuki; essays on photographic books as sites of translation (Hervé Guibert, Robert Frank, Sophie Calle, Bernard Faucon among others); and a book on sports as narrated. She has translated and introduced short stories by Kurahashi Yumiko (ME Sharpe, 1998) and by Horie Toshiyuki (a complete manuscript), and has written the introduction to Kishibe no nai umi by Kanai Mieko. She was the editorial advisor for the entry of Abe Kôbô, in Volume 297 of Twentieth-Century Literary Criticism (Gale, 2014).[more info.] email

 
John Zilcosky
Professor of Comparative Literature and German

I teach and write about modern European literature, psychoanalysis, trauma, the art of travel, and the history and philosophy of sports. My books include Kafka's Travels: Exoticism, Colonialism, and the Traffic of Writing (2003, winner of the MLA's Scaglione Prize), Writing Travel: The Poetics and Politics of the Modern Journey (2008), Uncanny Encounters: Literature, Psychoanalysis, and the End of Alterity (2016), The Allure of Sports in Western Culture (2019), and The Language of Trauma: War and Technology in Hoffmann, Freud, and Kafka (2021). Reviews of my work have appeared in publications such as the Times Literary Supplement and the Frankfurter Allgemeine Zeitung. I have received a Humboldt Foundation Research Fellowship, Canadian Social Sciences and Humanities Research Council Grants, and a twelve-month National Endowment for the Humanities Fellowship. I am honorary president of the International Comparative Literature Association's Research Committee on Literary Theory, where I served as president from 2011 through 2014. In 2018, the German government awarded me the Friedrich-Wilhelm-Bessel Research Prize. I am presently at work on a cultural history of wrestling, from Plato to Hulk Hogan. For more information, see https://german.utoronto.ca/john-zilcosky/.