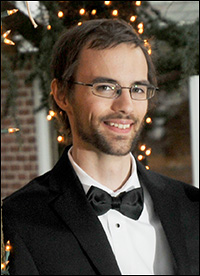 Peter Franklin was a superb student of Comparative Literature who did an MA and had started his PhD at the University of Toronto when he was diagnosed with cancer.
His wife writes, "Peter was thrilled to be accepted to U of T's master's in comparative literature program in 2010 and have the opportunity to increase his fluency in French and German, while studying under top-notch faculty. He greatly appreciated the chance to examine his favorite texts from a vantage point beyond their national and historical contexts, reading and comparing the evolution of modernism across cultures. He was especially pleased by the variety of books available in the university library and proudly checked out about twenty books at a time. He also enjoyed the chance to learn about Canadian life and culture. Peter sampled poutine, visited Tim Horton's, declared Second Cup Coffee's superiority over Starbucks, marveled over the collections at the Royal Ontario Museum, and began calling the two-dollar coins 'toonies.'"
Peter was much loved and respected by his fellow students and by professors for his intelligence and his quiet, caring self. Peter died in Atlanta in August 2014 at age 27. In his honour the Centre has created a memorial fellowship to be awarded to an international student studying Comparative Literature at Toronto.
Family and friends can give to the fellowship fund in a variety of ways:
1.By sending a cheque made out to the "University of Toronto", indicating the Peter Franklin Award in the memo, to the following address:
Jacob Wesolowski
, Senior Development Officer
Office of Advancement
Faculty of Arts and Science,
University of Toronto
Sidney Smith Hall | 2nd Floor | Room 2032
100 St. George Street | Toronto, ON | M5S 3G3
2. By calling Jacob Wesolowski at 416-978-2722 and providing credit card information.
3. Or by making a donation online here:  https://donate.utoronto.ca/give/show/76